SSU's Grad Slam 2023 was a huge success! Congratulations to all of the students who participated in Sonoma State's Grad Slam!
This year's winners are:​
First Place - Rebecca Kopel (Biology)

​Bringing Back the Bugs – Using Benthic Macroinvertebrates to Assess Freshwater Environments

Second Place - Michelle Jones (English)

Death Blazon: The Transgressive Feminism of Elizabeth Bishop's  "Large Bad Picture"
Let's wish them both well as they go on to the CSU-wide Grad Slam on May 5, 2023.
​Thank you for joining us on Zoom and supporting our graduate students!​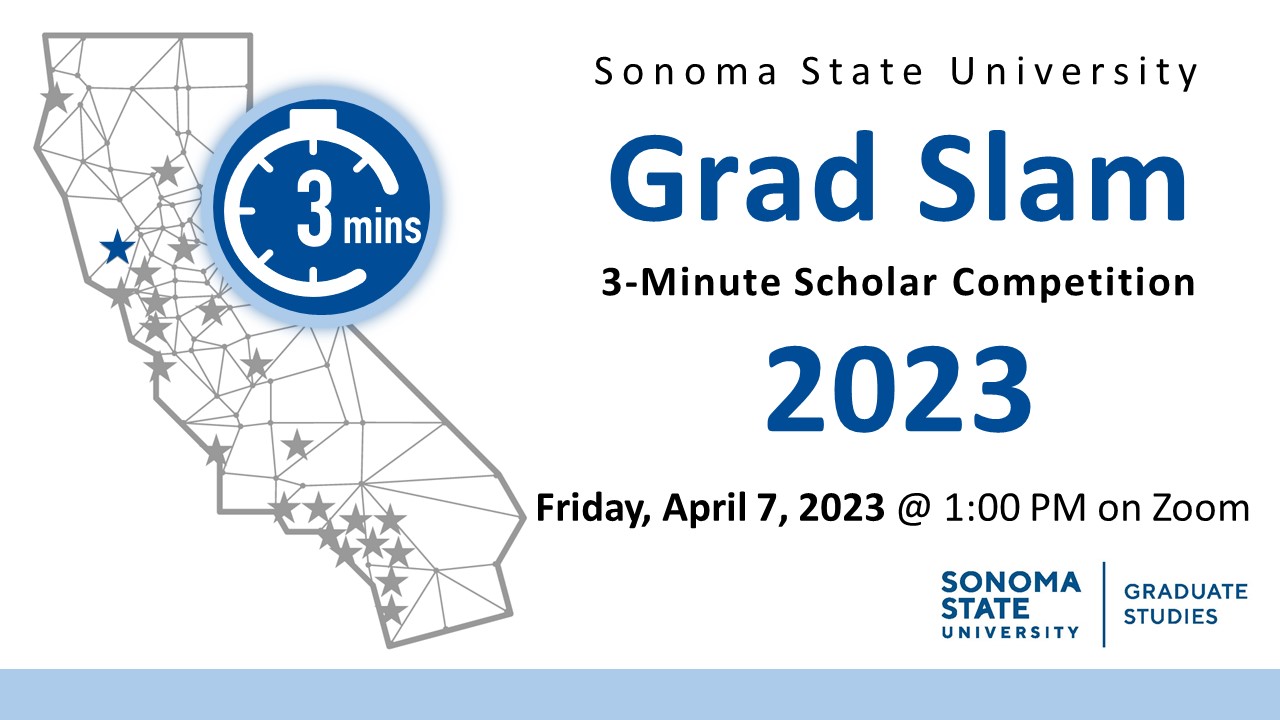 SSU Grad Slam 2023 is on April 7, 2023 at 1:00 PM. This virtual event is the annual spring semester Sonoma State University three-minute scholar competition hosted by the SSU Office of Graduate Studies. SSU Grad Slam is a fast-paced and exciting event in which graduate students present their research, scholarship, and creativity in just three minutes or less. 
Winners of the SSU Grad Slam will receive cash prizes, gain valuable experience delivering a professional presentation, and will represent Sonoma State at the CSU-wide Grad Slam competition on May 5, 2023.
This event will showcase and celebrate our graduate students as they present their research and creative activities. Student presentations will be evaluated by a panel of judges on how well they engage a non-specialist audience and whether they effectively communicate a clear and logical sequence of key concepts that reflect the impact of their ideas.
Graduate students across all disciplines are encouraged to participate in the SSU Grad Slam Competition. SSU Graduate Students have been winners in both of the first two (2021 and 2022) CSU-wide Grad Slam competitions, including Audience Choice Winner and State-wide Champion.
Grad Slam Competition Rules and Regulations
For any inquiries or assistance contact the Graduate Studies Office with the subject line Grad Slam.